How Technology Reduces the Administrative Burden on Physicians
The Quality Measures developed by the Centers for Medicare & Medicaid Services (CMS) are primarily designed to improve patient care and safety. CMS defines them as "tools that help us measure or quantify healthcare processes, outcomes, patient perceptions and organizational structure and/or systems that are associated with the ability to provide high-quality healthcare and/or that relate to one or more quality goals for healthcare."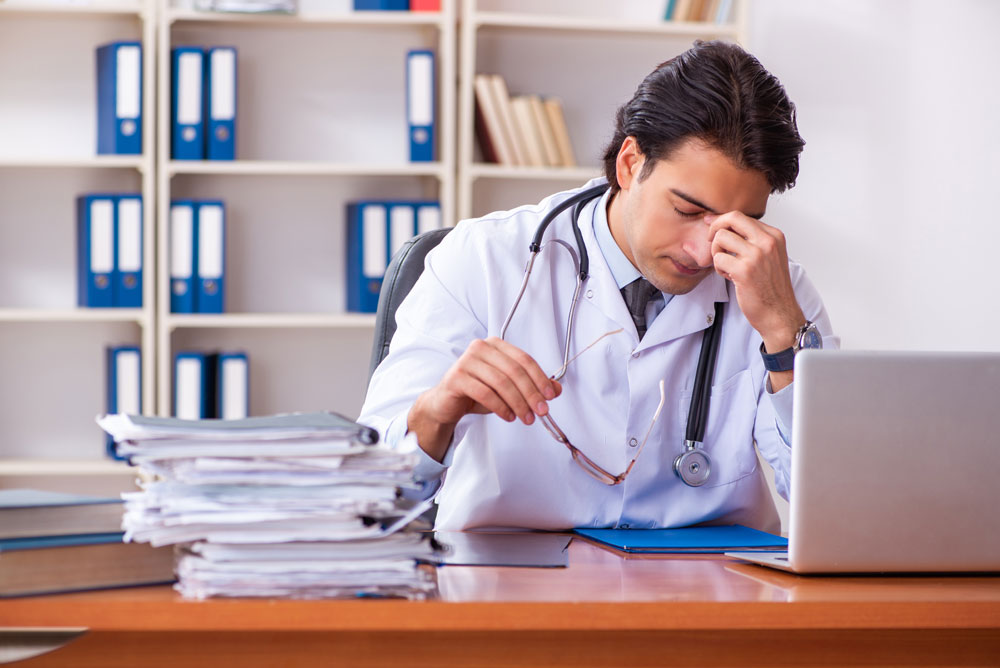 Though these tools are well-intentioned, healthcare providers in the United States spend an average of 785 hours per physician and more than $15.4 billion annually on the reporting of quality measures. This doesn't include the time doctors spend completing the documentation required to comply with the Children's Health Insurance Program (CHIP), the Medicare Access and CHIP Reauthorization Act (MACRA) and Merit-based Incentive Payment System (MIPS). It's no surprise nearly 40 percent of physicians list regulatory and insurance requirements as one of the two least satisfying aspects of their job.
Many doctors in the U.S. average 40-60 working hours per week and report burnout at rates two times greater than non-physician working adults. Almost half of a doctor's workday is spent on administrative work, while only 27 percent is spent on direct clinical care. For each hour of clinical face time physicians spend with patients, an additional two are filled with administrative and clerical tasks.
The Benefits of Employing Automation
Many doctors prefer the use of technology for administrative purposes. A multitude of technologies, including electronic health record (EHR) systems and computerized physician order entry (CPOE), have been designed to decrease paperwork and streamline the administrative side of healthcare for clinicians.
A key solution used to increase patient satisfaction is digital technology utilized during the intake process. It streamlines registration and enables physician practices to more quickly and easily retrieve completed patient forms and insurance verification, increase patient privacy and improve patient flow. Research has shown high percentage of patients seek providers with technology that offers digital scheduling, online payment options, portal and engagement capabilities and results reporting tools.
Similarly, tools that provide electronic charge capture and automated medical billing increase coding accuracy and efficiency and staff productivity, enhance denial management processes and cut operational costs. Physicians have the capability to use the data from this type of solution to calculate and track their RVUs, which often are factored into their compensation and demonstrate their value to the practice, hospital or health system that employs them.
Te advantages physicians achieve by implementing these types of technologies to reduce their administrative burden are many. By automating essential tasks, they can focus on what matters most: patient care. Other benefits include enhanced cycle management, improved HIPAA-compliance, increased patient engagement, reduced medical errors and decreased risk of audits.
How a patient is classified is another crucial part of correct coding. There are specific rules for whether someone is categorized as a new or returning patient. A new patient is one who hasn't received professional services from you or a member of your group in any location (e.g. hospital) in the past three years. For example, an established patient that has not been seen by you 2015 would be considered a new patient. Conversely, a returning patient is one to whom you or another physician in your group have provided services, including inpatient hospital consultations.
A Focus on Accurate Coding
Another major advantage of technologies for electronic charge capture and automated medical billing is increased coding accuracy. This level of accuracy might not seem vital to a provider's sustainability, but it results in improved compliance, reduced waste and more complete quality reporting.
Increased coding accuracy also affects a provider's reimbursement. Many physician practices and other providers forgo thousands of dollars annually in revenue through delayed and denied healthcare claims, often due to inaccuracy. The costs from these inaccuracies aren't always financial; sometimes they come in the form of a damaged reputation.
By using tools to ensure accurate coding, providers avoid consequences from a lack of compliance with regulations of the Health Insurance Portability and Accountability Act of 1996 (HIPAA). As mentioned in a previous blog, criminal penalties for HIPAA violations vary from a fine of $50,000 and up to a year in prison to $250,000 and up to ten years of jail time. Penalties for civil HIPAA violations range from $100 - $50,000 per violation, with an annual maximum of $25,000 for repeat violations, to $50,000 per violation, with an annual maximum of $1.5 million.
maxRVU: HIPAA-compliant Charge Capture and Communications
Solutions for electronic charge capture and automated medical billing enable healthcare providers to track and report key performance indicators while analyzing accurate data on revenue and costs. maxRVU Charge Capture automates data entry for quick and accurate charge capture on-the-go. If you're a physician looking to reduce the amount of time you spend on administrative tasks, start your free trial of maxRVU today!