Telemedicine: A Growing Industry Offering Accessible and Affordable Healthcare
Telemedicine might be grouped with newer healthcare technologies, such as electronic health records, mHealth and patient portals, but it was actually introduced in the 1960s by the military and space technology sectors. Though often used interchangeably with the term "telehealth," telemedicine consists of remote clinical services through technologies like remote patient monitoring and live videoconferencing. Comparatively, telehealth encompasses basic telecommunication tools, including phone calls, text messages and emails which enable patients to communicate with their providers.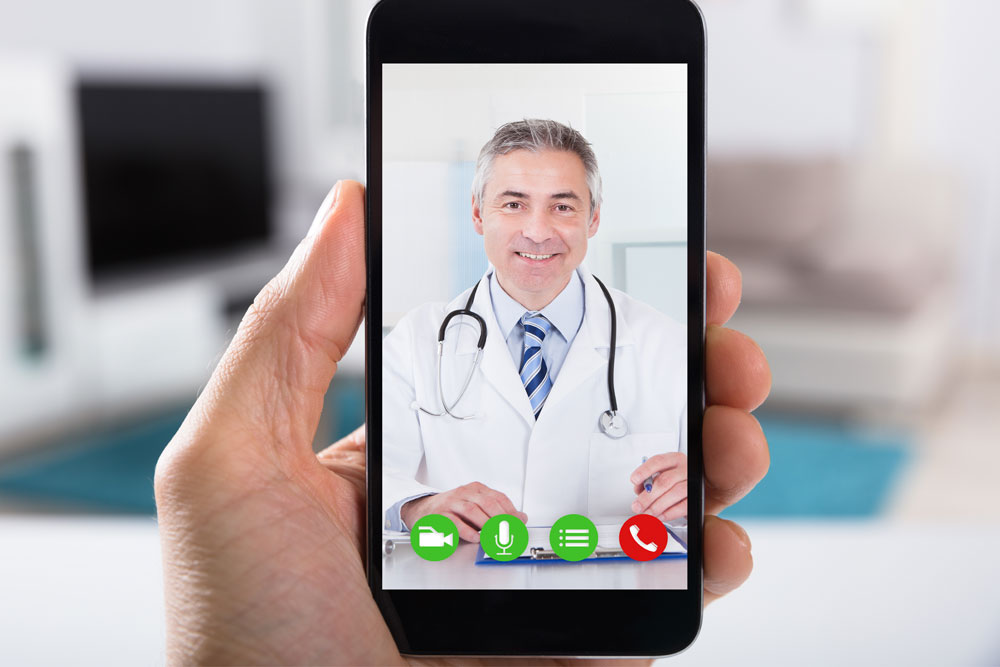 Although telemedicine was initially used to treat patients living in remote areas or those with a shortage of doctors, the American Medical Association (AMA) notes telemedicine delivers care through:
Real-time, audio-video communication tools (telehealth) that connect physicians and patients in different locations.
Store-and-forward technologies that collect images and data to be transmitted and interpreted later.
Remote patient-monitoring tools such as blood pressure monitors, Bluetooth-enabled digital scales and other wearable devices that can communicate biometric data for review (which may involve the use of mHealth apps).
Verbal/audio-only and virtual check-ins via patient portals, messaging technologies, etc.
In addition to providing cost savings for patients and physicians compared to traditional healthcare approaches, telemedicine increases efficiency through improved management of chronic diseases, reduced travel times, shared health professional staffing and fewer and shorter hospital stays. When employed to address the needs of low-acuity patients with disease exposure concerns, it can prevent overcrowding in emergency departments and primary and urgent care clinics. This specific advantage has certainly made an impact during the COVID-19 pandemic.
The COVID-19 Effect
For patients with a confirmed case of the novel coronavirus, telemedicine aids in streamlined triage, treatment and coordination of care. Similarly, using virtual visits enables clinicians to provide care to patients with non-urgent medical and mental health conditions while still promoting social distancing. For some providers, telemedicine allows them to provide patients with online or app-based questionnaires to facilitate COVID-19 screening to determine the need for in-person care.
The increased use of telemedicine following the COVID-19 outbreak has been partially made possible through numerous legal and regulatory changes. These include expansion of reimbursement for telemedicine services, easing of technology requirements, implementation of novel approaches to licensure and credentialing and relaxation of supervision laws related to non-physician providers. Additionally, many payers have expanded their coverage of telemedicine during the pandemic, making it easier and more affordable for patients to receive virtual care.
Increased Implementation
This year, telemedicine is projected to experience 64.3 percent year-over-year growth. Analysts estimate the global telemedicine market will reach $66 billion by 2021 and $185.66 billion by 2026 – an increase from a mere $34.28 billion in 2018.
A survey by Merritt Hawkins found nearly half of all U.S. physicians are using telemedicine to treat patients. In a similar survey, 40 percent of respondents report having had a telemedicine appointment. Virtual health-care interactions are on pace to surpass one billion by the end of 2020.
According to the American Hospital Association (AHA), approximately 76 percent of U.S. hospitals now connect with patients and consulting practitioners using telemedicine solutions. Prior to COVID-19, about 50 health systems in the United States had implemented a telemedicine program. On the payer side, 41 states and the District of Columbia had laws as of fall 2019 governing reimbursement for telemedicine services in fully-insured private plans while almost every state Medicaid program has some form of coverage for telehealth services
Though COVID-19 has prompted more patients to utilize telemedicine, its increased accessibility and affordability will likely continue to make it a more mainstream option for healthcare. Not only does it offer enhanced home supervision for patients with chronic diseases, it also reduces costs by decreasing the number of costly hospital stays.
Many large employer plans cover some telemedicine services, making it a less expensive healthcare option for some patients. For smaller healthcare facilities, the technology lets them provide quality diagnostic and treatment services in a more cost-efficient, timely manner while still providing personalized patient care. These cost savings are especially essential with the U.S. spending more money on healthcare ($3.6 trillion) than any other developed nation.
Changes in Coding and Billing
The benefits achieved through telemedicine can be substantial for physicians and patients, but the challenges in coding and billing its service can be overwhelming for practice managers and other healthcare professionals. Unlike traditional provider office visits, virtual appointments do not offer the capability for a staff member to physically procure necessary patient documentation. Administrative staff may not be sure how to accurately document telemedicine services or understand varying payer coverage and reimbursement rules. For example, the Centers for Medicare & Medicaid Services temporarily revised rules on how to report services, which can cause confusion about clarifying place of service (POS)..
Even the most experienced coders and billers may not fully understand the complexities of dealing with telemedicine claims or be aware providers should follow national coding standards when using HCPCS, CPT and UB-04 Revenue Codes. Some front-office staff may not know the GT modifier is required when a telehealth service is billed under CAH Method II.
As the Medical Group Management Association (MGMA) explains, "Provider documentation is vital when deciding on appropriate code selection for telehealth. Face-to-face encounters via telecommunication must include the date of service and platform used. Telehealth codes require notation of audio/video communication between treating provider and patient, as well as findings and treatment plan. Telephone or email visits are considered non-face-to-face and must be documented as such. Date of service and whether it was audio-only or via secure patient portal must be documented. Findings must be documented by the provider based on patient communication. Additionally, the types of Medicare telehealth services carry with them unique HCPCS and CPT codes, which also vary based on the patient relationship with provider."
Maximizing Telemedicine with maxRVU
Using the right technology can make a noticeable difference in clinician workflow and assist in revenue cycle optimization. It also can reduce the administrative workload of providers, enabling them to spend more time with their patients.
maxRVU Telemedicine offers high-quality video streaming on any smartphone, tablet or computer, with HIPAA-compliant privacy safeguards and no downloads or installation. Connect with your patients in an instant – learn more about maxRVU Telemedicine!